FallingInSand
Sand Peace automatic Zen garden
Sale price Price $89.99 Regular price $119.00 Unit price / per
We'd like to inform you of a small delay due to a recent upgrade to our product, aimed at improving your experience. As part of our commitment, we're offering a complimentary upgrade, increasing the diameter from 20cm to 30cm. We expect a delay of 1 to 2 weeks, with shipping starting by December 20th at the earliest. Plus, enjoy a free upgrade to the LED version of our sand piece. Check out the upgraded product showcase on our Instagram https://www.instagram.com/reel/C0h2HiarlzD/?utm_source=ig_web_copy_link&igshid=ODhhZWM5NmIwOQ== 
Project Overview
Discover Sand Peace by FallingInSand
In an ever-evolving digital age, Sand Peace stands as a sanctuary of calm and introspection. This automatic Zen garden seamlessly blends timeless tradition with contemporary design, offering a piece of tranquility for any environment.
The Inspiration Behind Sand Peace
Every corner of our modern life brims with stimuli - notifications, deadlines, and constant connectivity. Sand Peace is our answer to this overstimulation, offering a respite and a tangible touchpoint to mindfulness and relaxation.
Embrace tranquility and mindfulness with Sand Peace, your personal Zen garden. Ideal for meditation and finding inner peace in the comfort of your home.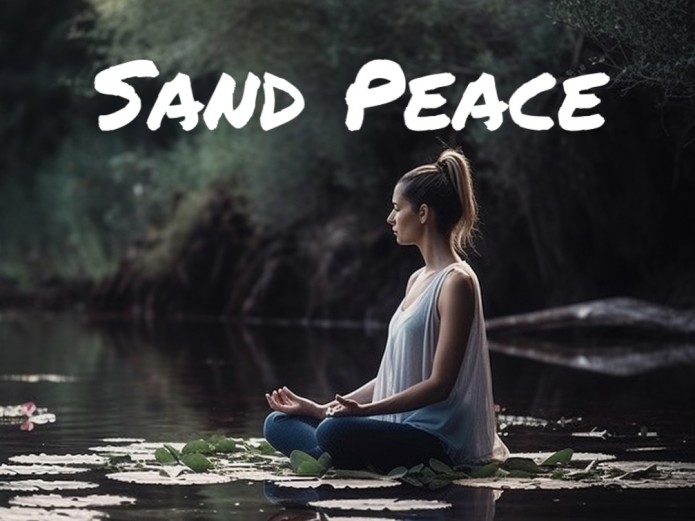 Features that Stand Out
Moment of Zen:

 

More than just a decorative piece, Sand Peace serves as a daily meditation tool, promoting calm and present-moment awareness.
Mesmerizing Patterns:

 

Watch in fascination as mesmerizing sand patterns offer a fresh visual experience with infinite cycle.
Speed Control Flexibility: Easily adjust the pace of the sand patterns with an intuitive speed control feature, allowing a tailored Zen experience from rapid movements to a slow, meditative flow.

Whisper-Quiet Operation:

 

A silent motor ensures an undisturbed Zen experience, with only the gentle sound of shifting sand.
Sustainability at Heart:

 

Crafted using eco-friendly materials, we ensure our commitment to the planet matches our commitment to your peace of mind.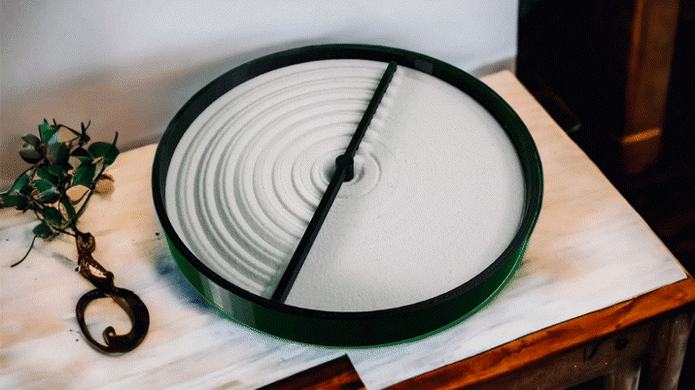 FallingInSand Team
The world's leading expert in sand artistry. With a massive community of over 3.3 million followers on TikTok and 200k enthusiasts on Instagram, FallingInSand has become a hallmark of tranquility and captivating visual experiences in the world of social media. Dive deeper into our journey and see our creations on https://www.instagram.com/fallinginsand  and http://tiktok.com/@fallinginsand
Shipping charges vary based on your country - approximately $15 U.S. and Canada, and $25 International.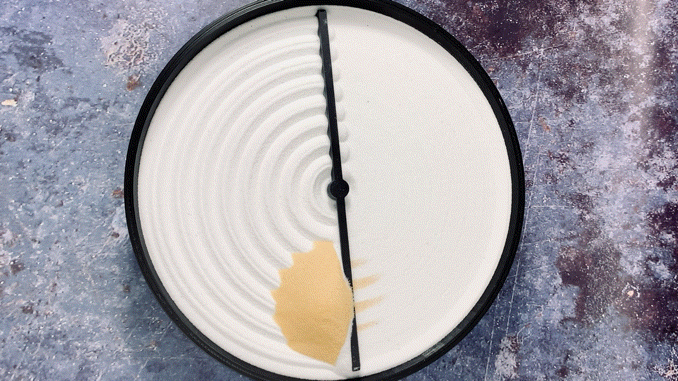 Be a Part of Our Vision
Supporting Sand Peace is more than just backing a product. It's a pledge towards a calmer, more mindful future. With your help, we can bring moments of Zen to countless desks, homes, and workspaces across the globe.
Embrace the serenity. Back Sand Peace today and champion a movement towards mindful living.
FAQ
When can my order be shipped?
We are excited to announce that our first batch of 500 units will be shipped before December 10th. We are striving to ensure that they arrive in time for a Christmas surprise!
What is Sand Peace?
Sand Peace is an automatic Zen garden designed to provide a calming and mesmerizing experience. The continuous motion of sand creates serene patterns, bringing a touch of tranquility to your space.
How does Sand Peace operate?
Sand Peace uses a silent motor that drives a mechanism underneath, allowing the sand to create intricate patterns. With an added speed control feature, you can easily adjust the pace of the patterns, offering a tailored Zen experience from dynamic displays to slow, meditative flows.
Does the package includes sand?
Yes, each Sand Peace package comes with a specially curated type of sand that is optimized for the best Zen experience. The sand is chosen for its texture and consistency, providing a tranquil and captivating display.
How much sand do you get and how much sand does it get filled with?
With each purchase, you'll receive 1lb of pure white sand and 0.5lb of tan-colored sand (beach hue). The sand tray is designed to be filled with approximately 300g or 0.6lb of sand. You have the freedom to use a single color or mix both. Even if you decide to blend them, the color outcome is beautifully zen.
How big, how heavy and how deep is it?
The sand tray has a diameter of 20cm (approximately 7.87 inches) and a height of 5.5cm (approximately 2.17 inches). The weight of the sand tray, without any sand, is approximately 1lb or around 454g. The depth of the sand tray for the sand itself is 2cm or 0.78 inches.
Does it plug in, use batteries, or do you charge it?
The sand tray is powered by plugging it in. The power plug will be provided.
Does it stay open or have a covering?
Currently, the sand tray stays open to allow for a clear view of the flowing sand patterns. However, we're considering introducing a glass cover in future models, especially for households with pets like cats.